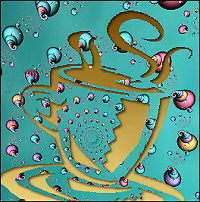 Turkish Coffee
has a somewhat similar equivalent in traditional Cowboy Coffee. The principal is basicly the same. One is less formal as to what type of utensils and setting. Cowboy coffee is pretty easy to make. All one needs is a sturdy pot, some good hot coals, water, and some ground coffee. Basicly fill a pan with water and dump coffee grounds into the pan. Set the pan on the hot coals for about 20-25 minutes, take it out. Pour a little cold water over the top to settle the grounds. Skim the surface with the cups to get yer coffee. Easy. Add various things to coffee if you like.
Something that goes good with hardy coffee. Dutch Oliebollen.
Oliebollen
Ingredients


1 package active dry yeast


1 cup warm milk


1/3 cup granulated sugar(sugar in the raw)


1/4 cup butter, softened


2 large eggs


1 teaspoon vanilla


1/4 teaspoon salt


3 1/4 cups all purpose flour


1/2 cup dark raisins


1 cup chopped apple


Canola oil


Powdered Sugar


In a large bowl, sprinkle yeast over warm milk. Stir in granulated sugar, butter, eggs, vanilla, salt, and two cups of the flour until its all smooth. Stir in raisins and apple and remaining flour until a soft dough is formed. cover and let rise until double in bulk. (about 45 minutes) Heat about 2 inches of oil in a deep skillet to 375f. Stir down dough; drop by tablespoon and fry 3 to 4 minutes, turning once until golden. Drain on paper towels. Sprinkle with powdered sugar. Pig out. Drink lots of strong coffee, eat lots of oliebollen, go raise hell.
Hx/culture lesson. The raisin studded doughnuts are one of the many treats Sinterklaas leaves Dutch children.