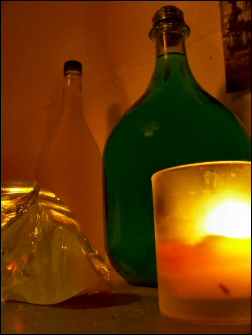 Dutch Oliebollen


--Ingredients
1 lemon
1 sour apple*
500g flower
75g raisins*
1/2litre milk
20-25g fresh yeast (or one small package which is 7g here)
50g chopped candied peel*
1 teaspoon sugar
1 teaspoon salt
1 teaspoon cinnamon
--Preparation
-Wash the lemon, dry it, and grate the peel. Chop the lemon in half and squeeze the juice in a glass. -Peel the apple, chop it in 4 pieces, remove the core. Cut the 4 parts into tiny little pieces, put them in a bowl and mix them with the lemon juice.
-Wash the raisins, and let them leak out.
-Heat the milk in a saucepan until it's tepid.(max 40°C, so don't let it boil!)
-Crumble the fresh yeast, mix it with the sugar and 1dl (100ml!) tepid milk in a bowl, and stir until it's a nice smooth mixture.
-Mix the flower with the salt in a big bowl. Make a little hole in the centre, and pour the yeast mixture into it. After that add the (tepid)milk that is left into the same hole. Mix it with a hand blender or a spoon until it's a nice smooth mixture.
-Mix the grated lemon peel, the apple pieces (with the lemon juice), the raisins, the chopped candied peel and the cinnamon into the mixture.
-Cover the bowl with some foil and let the batter stand (rise) for about an hour on warm spot.
-Heat the deep-frying fat until it reaches 180ºC. Now, you can do the next step with a soup spoon (a deep big one). Stick the spoon in the heated fat for a couple of seconds; this will prevent the batter from sticking to the spoon. Use the spoon just as you would use it to serve soup. Make sure the spoon is filled with the batter, and carefully dip it into the oil/fat. Repeat this, but don't have more than 4 of them into the oil at the same time (this also depends on the size of your pan). Fry the 'oliebollen' for about 8-10 minutes until they are nice gold brownish.(rotate the them with a fork after 4 minutes, so the whole thing gets fried equally).
(-Repeat this step until the all of the batter is used.)
-Let the 'oliebollen' leak out on some kitchen paper before you serve them. Arrange them on a nice dish and don't forget the powdered sugar!
*If you don't like raisins, apples or candied peel, you can leave this out. After you fried the 'naked oliebollen', let them leak out, and cut them open. Now you can stuff them with whipped cream, strawberries, or whatever you prefer. (or eat them without anything, that's my favourite way, just with loads of sugar!)You can eat them hot, or cold. It's not a problem if you let them cool down; keep them in the refrigerator and just heat them the next day in your oven.
*You can also mix some nuts (hazelnuts for example)in the batter.
Typical Dutch Stuff